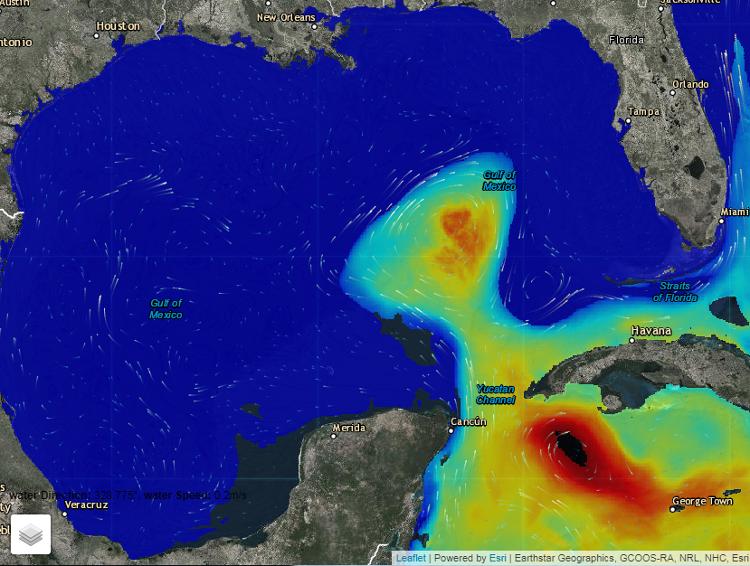 CORPUS CHRISTI, Texas – Understanding the dynamics of The Gulf of Mexico Loop Current System, which is the dominant oceanographic feature in the Gulf of Mexico, would provide a range of benefits for a variety of commercial and sports fishing interests, emergency responders, resource managers, as well as coastal residents who must remain vigilant with regard to storm activity during hurricane season.
The Gulf of Mexico Loop Current System (LCS) is warm water that flows into the Gulf through the Yucatan Channel – between the tip of Southern Mexico and Cuba roughly 130 miles away – and moves north into the Gulf of Mexico, loops east then south before exiting through the Florida Straits, said Dr. James Gibeaut, Endowed Chair for Coastal and Marine Geospatial Sciences at the Harte Research Institute (HRI) for Gulf of Mexico Studies.
Scientists are creating an information system to collect data in private holdings named the Gulf of Mexico Loop Current Data Hub, or GulfHub. That system would support the needs of scientists and researchers by providing access to long time series of quality oceanographic data and high resolution bathymetric, or the measurement of depth, data; it is an ongoing project led by Principal Investigator Felimon Gayanilo, Systems Architect/Enterprise IT Technologist at HRI.
Gibeaut serves as co-principal investigator on the GulfHub project. It is sponsored by the Gulf of Mexico Coastal Ocean Observing System (GCOOS) and the National Academies of Sciences, Engineering, and Medicine, which have provided funding in the amount of $153,469. The project date range is January 2019 to January 2021.
"The Loop Current System affects a lot of processes in the Gulf of Mexico – animal migrations, the paths and strengths of hurricanes, shipping, and oil and gas operations," Gibeaut said.
Tomado de: TAMUCC